Archives for July 2011
Photo courtesy of Jane Hall Design.
Stunning vintage pieces
We recently profiled Jane Hall, the "Voice of Style" for her innovative use of the color black in her interior designs. We were so inspired with her design and noticed she leaned toward putting amazing vintage pieces and antiques with modern decor with stunning results.
Hall said, "I love the concept of homeowners using vintage furniture for a number of reasons. Its green design and quite frankly built to last. With 95% of the furniture on the market today being made in China from press board and staples, in unregulated factories, this was not built to last. I call it throw away furniture. Its also cheaper to make it in 6 shades of gray and beige, chocolate brown and black and it cheaper to make things square than it is to make them round."
Vintage doesn't just happen, it takes planning
We understand from Hall that vintage is not exactly cut and dry and that a great deal of thought must be put into its execution (hence why she is in such high demand, we presume).
"There are many decorating styles that lend themselves to vintage furniture. I would recommend readers to do some research about what era they are trying to achieve before going out and throwing anything into the back of their car. As in all design projects, I always start off with a plan with my clients, so you don't buy items that don,t contribute to your overall plan, just because they are are a deal or they are on sale.These are a couple of examples."
Vintage styles
Hall outlined two primary ways to incorporate vintage style into a home.
Shabby Chic: Country pieces from can be painted white and distressed and look great with white linens on the bed, crystal chandeliers pale grayed off pastels on the walls Iron bed frames painted white, oversize couches in a cotton canvas cloth. Sisal rugs, on light stained hardwood floors keep the look light and casual.
Mid Century Modern: This a huge trend in the vintage market, with the the last 15 year craze being about modern design. Done properly with authenticity Mid Century Modern can be a great look. What people tend to forget, is that during the 50′s and 60′s color was used. As it was the post war years , they were doing a lot of experimenting with new materials in flooring, new fabrics, plastics and colour was a part of that experimenting. If you have seen Madman it's fabulous early 60′s design.
Hall says that when flea market shopping, she looks out for shape first and foremost and ignores fabric, color or wood condition. "All that can be changed. Painted, reupholstered in contemporary or new fabrics or wood pieces painted, you can have pieces that are totally unique and are eco friendly."
More Jane Hall Design designs:
If you're enthusiastic about vintage design, check out the shots Hall sent us a variety of her pieces:
TOH editors scoured the market for upgrades that make life easier, better, or just more fun, from a fits-anywhere fireplace to a sleekly coiled pot-washer faucet to a seductive soaking tub.
With home centers expanding their lines and prestige brands striving to offer value, high style at a low price is more available than ever.
Read the rest of the article here at thisoldhouse.com
According to the Conference Board, the Consumer Confidence Index climbed to 70.4 in February of this year, hitting its highest level since February 2008. Americans seem to be getting their spending swagger back, which is good news for both American retailers and the worldwide economy.
Take a look at who's benefitting most from the increase in spending and where exactly that money is going. (Infographic designed for Milo)
click image to enlarge.
One of the saddest parts of albums disappearing was the loss of incredible cover art that could tell a story before the cellophane ever came off and the album hit the turntable.
Bante brings to life the jazz album covers of Blue Note Records in this 2009 promo video, "Hi-Fi."
Long live album art!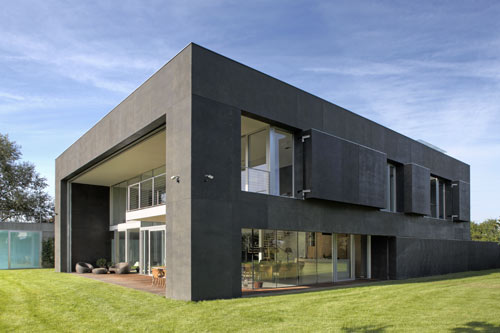 The Safe House by KWK PROMES is located in a small village on the outskirts of Warsaw, Poland. Surrounding the area, many of the buildings are "Polish cubes" from the 60s and old wooden barns. The house was designed so that the homeowners never feel unsafe or exposed. The result is something of a modern fortress with lots of movable parts and secret openings, complete with a working drawbridge.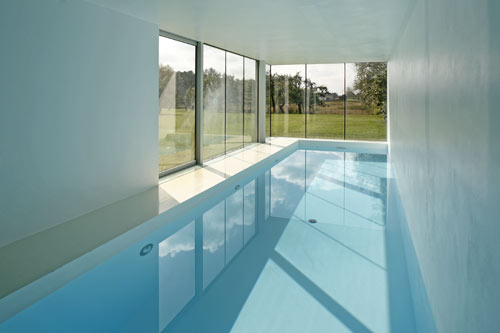 From the architects:
Idea

The clients' top priority was to gain the feeling of maximum security in their future house, which determined the building's outlook and performance.

The house took the form of a cuboid in which parts of the exterior walls are movable.

When the house opens up to the garden, eastern and western side walls move towards the exterior fence creating a courtyard.

After crossing the gate one has to wait in this safety zone before being let inside the house. In the same time, there is no risk of children escaping to the street area in an uncontrolled way while playing in the garden.

Movable elements interfering with the site layout
The innovation of this idea consists in the interference of the movable walls with the urban structure of the plot. Consequently, when the house is closed (at night for example) the safe zone is limited to the house's outline. In the daytime, as a result of the walls opening, it extends to the garden surrounding the house

New type of building

The sliding walls are not dependent on the form of the building. That is why this patent can be applied to both modern and traditional, single- and multi – storied houses covered with roofs of different geometry.

This universal solution we came up with gives a new type of building where not the form but the way of functioning is the most important. The name: "safe house" gains a new meaning now.

Mechanic…

Accomplishment of this idea required the use of technically complex solutions. The most significant are the sliding walls (both 2,2 m high, 22 and 15 m long), which allow to interfere with the urban structure and determine the safe zone of the plot.

They are not the only mobile elements of the building. Apart from these, there are large shutters (all 2,8 m high, with a width ranging up to 3,5 m, opening up to 180 degrees) and a drawbridge leading to the roof terrace above the swimming pool.

The southern elevation is closed by an enormous roll-down gate of 14 and 6 m manufactured by a company normally supplying shipyards and air companies. It is made with white anodized aluminum which makes it possible to function as a movie projection screen.

All the movable elements are based on built-in electronic engines, that guarantee safe operation.

The whole building is a concrete monolith, while it's mobile parts – for the sake of considerable size – are light steel trusses filled with mineral wool. As a result, the building is perfectly insulated when closed.

The whole house as well as the mobile elements are clad with cement-bonded particleboards – Cetris and waterproof alder plywood fixed to a steel construction and painted with dark wood stain, which resembles the wood widely found on the surrounding houses and barns, and makes it fit well into the rural landscape.

… to Organic

Once the house opens, it's bright and spacious interior merges extensively with the garden.

Wide glazings behind the movable walls let the building acquire energy during the day (winter) or prevent the sun's heat from going into the house (summer). At night, when the house is closed, the thick outer layer helps the building to accumulate the gained energy. Such a solution together with the hybrid heat system (most of the energy is gained from renewable sources – heat pump and solar systems supported with gas heating) and mechanical ventilation with heat recovery makes the house become an intelligent passive building.

Every day the house acts in a similar way – it wakes up every morning to close up after the dusk. This routine reminds of the processes occurring in nature – the house resembles a plant in its day and night cycle.
Waste materials that are reclaimed for new structures can be as simple as a bunch of stacked tires or a boat that's no longer seaworthy, or as complex as old stone bricks re-sculpted to look like new. They can be roughly cobbled together into rustic cabins, or masterfully incorporated into stunning modern residences along with new materials. Sometimes they're left as-are, their signs of age providing a sense of history, and sometimes they're processed into something that leaves no hint of their origins. These 10 recycled building materials were saved from the landfill and transformed into the following 30 green homes, and many more around the world.
Bottles & Cans
To some, they're junk, but to others, discarded bottles and cans can be the main materials of a recycled home. Flattened tomato tins were turned into protective exterior tiles on a mountain home in Patagonia, and one million brown and green beer bottles were formed into an absolutely breathtaking Buddhist temple in Thailand. The 'Beer Can House' in Houston, Texas was crafted over 18 years out of 39,000 cans of beer. The cans were cut up and applied to just about every surface, used as siding, decorative trim and fencing. Plastic bottles were used to build a schoolhouse in San Pablo, Philippines, resulting in a structure that's three times stronger than concrete.
Ships & Boats
Decommissioned ships and boats can be brought on land and transformed into unusual residences that become the talk of the town. While it's looking a little worse for the wear, 'The Ship House' of Dalmatia, Croatia is certainly a creative example of a recycled house. The sight of 'The Ship Residence', top right, might just cause you to run your own boat aground as you stare. Located on South Bass Island in Lake Eerie at Put-in-Bay, Ohio, the home consists of a former Great Lakes Shipping Boat that was built by Henry Ford and saw 50 years of service before it was moved onto the lot. Or, you could just craft recycled wood into an amazing house that just looks like a ship.
Glass Panels & Windows
Recycled glass windows, plexiglass panels and even waste glass are transformed into light-filled homes. Kolonihavehus by artist Tom Fruin may not be a functioning house, but it's certainly a source of inspiration for people looking to build green reclaimed houses; it's made entirely out of used plexiglass panels, which the artist colored to create a stained glass effect. Another home in Freetown Christiania, a commune in Copenhagen, was built in the '60s using reclaimed windows – bet they've never had to turn on a light in the daytime. And finally, though it might not be pretty, the bottom house is an inexpensive modular home with a build time of less than a week that was made from processed waste glass.
Barns
With cities expanding ever outward, farms are fewer and farther between – but that doesn't mean that big beautiful barns should just be torn down. Many barns have been turned into stunning, spacious private homes, whether by simply insulating them and adding utilities or by completely disassembling the wood and crafting it into something new. Belgium's reclaimed barn house, top, maintains the traditional shape of the barn it was made from, with lots of new glass and a fully functioning shutter facade for natural light and ventilation. Below, the heavy beams of a dairy barn were separated to form slats that protect rippled glass walls, making a formerly dense structure seem light and airy.
Shipping Containers
Compact, stackable and found in great abundance all over the world, shipping containers are an ideal material for building homes and other structures. While they used to sit abandoned in shipyards once their short 5 years in use were over, now they're configured into houses small and large. Individual shipping containers with pre-cut openings are simply lifted by crane and dropped onto each other in a pre-determined design. There are lots of DIY used shipping container house plans for those interested in giving this cheap, eco-friendly building material a shot.
Grain Bins
Strong and sturdy, grain silos form the basis of round houses, left rustic or given a contemporary touch. Two silos were joined by a hallway to form a home in the rural American Midwest; another forms the main internal structure for a home in Greensburg, Kansas. The silo has been disguised in the latter home, so you would never even guess that it's there. At the Gruene Homestead Inn in Texas, a front porch gives a silo used as guest chambers a homey feel.
Tires
Tires are the main building component of ecological houses known as 'earthships'. These homes, common in the deserts of the United States, are also ideal as low-cost housing in third world countries. Tires are plentiful and, when packed with mud, provide thermal mass to regulate the building's internal temperature. They are often plastered over with a mud mixture that resembles adobe, though sometimes, they're left visible. The top image shows a school in construction in Guatemala; the second depicts a wall in a Virginia earthship. The third image illustrates how tires have been used to make strong, inexpensive houses in earthquake-ravaged Haiti.
Pallets
Did you know that shipping pallets are often made of hardwood? Once they're used a few times to transport heavy loads, they're cast aside, but this wood can make up the building blocks of a home. In Curacavi, Chile, a large modern home was given cladding made of pallets painted white, which provide natural cooling and ventilation, and let in light. Unmodified pallets could even be used to create quick and cheap disaster housing, used for everything from the front deck to the furniture inside. The modular Paletten Haus, designed by two students from the University of Vienna for a sustainable architecture competition, is modular and energy efficient; the students are working on smaller, similar designs that could be built for just $11 per square foot.
Reclaimed Wood
Reclaimed wood from various sources including demolished structures can add character and a sense of history to a home, whether it is used as an accent among more modern materials or as the main event. The 'Treehouse of Hyeres', top left, was made of wood and found objects and is clearly rustic in style; the reclaimed wood still retains the varying shades of tint and paint. Alternately, reclaimed wood makes up the core structure of a home which was finished with paler, newer wood for a beautiful contrast. The third home also made of mixed new and used wood, achieves a similar effect.
Stone
Recycled scraps of slate from buildings no longer in use were reclaimed for both the roof and the north facade of the Ty Pren residence in South Wales (top). A crumbling stone villa in Portugal was rebuilt, the time-worn stone blocks juxtaposed with new wood and glass for a modern look, in a luxury country villa conversion by Manuel Ribeiro. The beauty of stone is that it can be carved back into new-looking bricks if an aged look is not desired. British architect John Pawson used reclaimed stone to create The House of Stone in Milan, which appears brand new.