Archives for December 2011
By: VICTORIA REITANO & TABITHA SUKHAI, This Old House online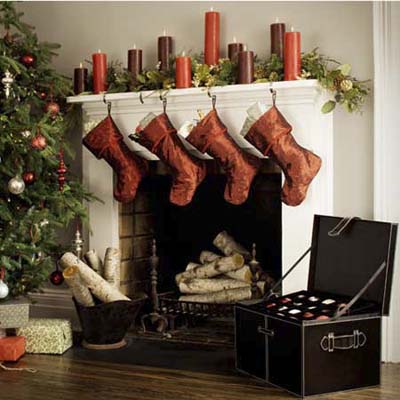 Photo:  Courtesy Sterling Pear
Putting Away the Holidays
Holiday decorating can go from fun to frustrating in no time flat. And putting it all away can really be the pits. To help you get it done, we've gathered a few clever storage solutions and some pro organizational tips from Lea Schneider, author of Growing Up Organized and a member of The National Association of Professional Organizers.
"If you take the time to stow decorations properly after the busy holiday season passes, next year will be easier," Schneider says. Keep reading to see how to store fragile holiday items, and save yourself a few headaches (untangling! dusting!) next holiday season, too.

Artificial Tree Storage
Artificial trees can last years and years with the proper care. Schneider suggests that you think about the weight of the tree before determining where to store it. "Most artificial trees are too heavy to wrestle into a trap-door attic or lug up a set of stairs. Consider storing the tree on the same floor as it is used, perhaps in an adjacent garage, storage room or closet," she advises.
A rolling case is a great option for easy moving. If you have the space, you can really save time next year by storing your tree without dismantling it. TreeKeeper bags with rolling bases are available in a variety of sizes. A heavy-duty plastic hook allows you to hang the bag from rafters in the corner of your attic.
Read the rest here at ThisOldHouse.com
A straight-on view of the street frontage reveals nothing but a quaintly dilapidated, nearly-100-year-old apartment building – making the top-floor addition a dazzling surprise.
Setting up a dialogue with the masonry levels below, the metallic cladding above is streamlined and contemporary by comparison but uses the same color(less) palette to blend into its surroundings.
MPR Design Group in Australia writes this of their project: "The fundamental architectural proposition explored in this project was how do you add to a building which has it's own history and place within an existing environment which it contributes to form a place in one of Sydney's iconic beaches."
Moving deeper inside, the traditional geometries of the original structure give way to sharp angles, abstract shapes, modern appliances and new materials.
As the plans reveal, the spaces inside are dynamic, curved and engaged mainly with framing fresh views of the water beyond and town below, all while allowing residents to pull back into the privacy of the lofted dwelling as well.
With the Seattle Times announcing yesterday the 1% decrease in home prices, a look at what is happening elsewhere seems to be in order. Nationally, median list prices have mostly been flat since June, but some markets are still seeing some decreases in home prices, according to the latest data from Realtor.com of 146 metro markets.
The following are the cities where list prices have fallen the most from October to November: 
1. Detroit
Month-over-month decrease: -4.61%
Year-over-year decrease: -12.47%
Median list price: $84,900
2. Monmouth-Ocean, N.J.
Month-over-month decrease: -4.32%
Year-over-year decrease: -3.05%
Median list price: $300,444
3. Santa Barbara-Santa Maria-Lompoc, Calif.
Month-over-month decrease: -3.52%
Year-over-year decrease: -1.95%
Median list price: $539,250
4. Pueblo, Colo.
Month-over-month decrease: -3.45%
Year-over-year increase: 0.29%
Median list price: $139,900
5. Tulsa, Okla.
Month-over-month decrease: -3.38%
Year-over-year decrease: -5.34%
Median list price: $140,000
6. Peoria-Pekin, Ill.
Month-over-month decrease: -3.18%
Year-over-year increase: 3.71%
Median list price: $139,900
7. Charleston, W. Va.
Month-over-month decrease: -3.09%
Year-over-year increase: 6.67%
Median list price: $159,900
So once again, the news has reported that "Seattle home prices are down". "according to another index". I was the kid in the class that would question everything. Sorry teachers, that was me. I had to ask the question, is that really true? The "index" that is being quoted is the Case-Shiller index. Seattle, in this index is hardly in context…
I am not a fan of the U.S. housing index created by Karl Case and Bob Shiller (in the early 1990s). That said, it is a highly watched gauge and worthy of commentary.
It is worthwhile discussing briefly exactly what is tracked and how it is put together. The indices are calculated from data on repeat sales of single-family homes; that is the sale of the same house over time (it therefore ignores the new construction market completely). The Case-Shiller index family includes 20 metropolitan area indices and two composite indices as aggregates of the metropolitan areas. These indices are three month moving averages and data is published with a two-month lag.
My biggest concern with the Case-Shiller report is really a local one. Since I am based in the greater Seattle area, which is one of the "cities" within the index. My issue is that Case-Shiller defines Seattle as the tri-county area – encompassing King, Snohomish, and Pierce Counties. In most people's opinions, this is far too large a geography to have any real relevance. The markets in these three counties vary significantly from each other, so to define what is taking place in Seattle using sales activity in Tacoma and Everett seems ridiculous to me.
You can read the rest here.
While I do believe there are many a deal to be had in our present situation. The negative news does not put context into their reporting.
If you would like to discuss the local market and the possibilities for you and those you care about, call or email me.