Do a Grill Checkup…Stat!
Nothing announces the arrival of summer like firing up the grill. Unfortunately, nothing sours a summer party faster than a grill that won't light, smokes too much, or cooks unevenly.
Don't get caught with your tongs down! Before the season really heats up, give your barbecue an annual checkup. Follow our how-to advice to get your grill up to snuff for the big Memorial Day cookout.
Deep-Clean Your Cooker
A charred coating on a grate doesn't add flavor, it's just dirt, says Barry "C.B." Martin, Char-Broil's CGO—that's chief grilling officer. Any shiny black flakes on the underside of the hood are unlikely to be chipping paint; they're burned-on residue, a fire risk. Here, Martin's step-by-step for gunk removal.
The Interior: Dry-scrub crud from grates, burners, and inside surfaces with a no scratch sponge or a nylon brush. You can even use an emery cloth or a wire brush on uncoated steel or iron. Then wash surfaces with dish soap and water, rinse well, and dry thoroughly. Martin suggests reseasoning cast-iron or metal grates with oil as you would a similar pan, but there's no need to coat chromed-steel or ceramic grates. Consider replacing these grates if they're rusty or chipping.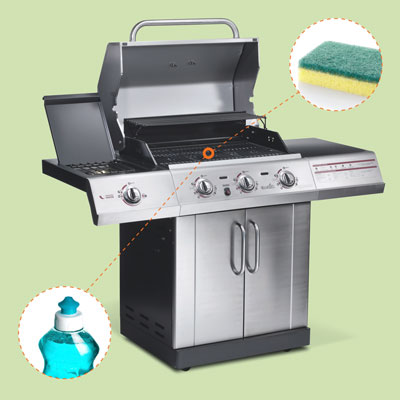 read the rest here at ThisOldHouse.com