Would you buy any of the wow products HouseLogic's intrepid reporter spotted at the home builder show?
After hiking miles of aisles past thousands of products (you're welcome!) displayed at the 2013 International Builders Show in Las Vegas, I found a few designed to make your life easier, cooler, more efficient, and more fun. (Of course, many come with a steep price.) Come on, wouldn't you want these?
Music in Your Showerhead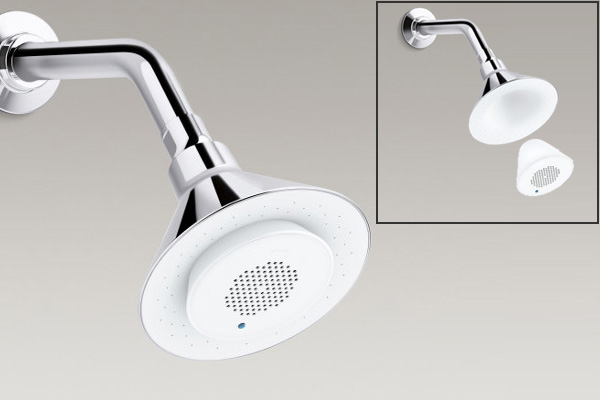 Credit: Kohler
Closet crooners, rejoice! Kohler's Moxie shower head features a Bluetooth-enabled speaker so you can pipe your favorite playlist directly into your morning shower. The waterproof (obviously) wireless speaker attaches with a magnet to the shower head so that — even if you can't carry a tune — you can detach it post-shower and carry the little speaker with you while you decide which socks to wear. The lithium-ion battery gives 7 hours of play and is rechargeable via USB. List price is $199.
Music Inside Your Bathtub
Can't help but give innovative Kohler another shout-out for its VibrAcoustic hydrotherapy technology that lets you transfer your music directly into your tub via an MP3 device. Plug in your iPod, pick some mood music, and VibrAcoustic makes the walls of your tub — and the surrounding water — gently vibrate to the rhythms of your tunes. Talk about an immersive musical experience!
VibrAcoustic technology adds $2,400 to the price of your tub. Need even more fun? Include chromatherapy (colored lights) for another $600.
Solar-Ready-or-Not HVAC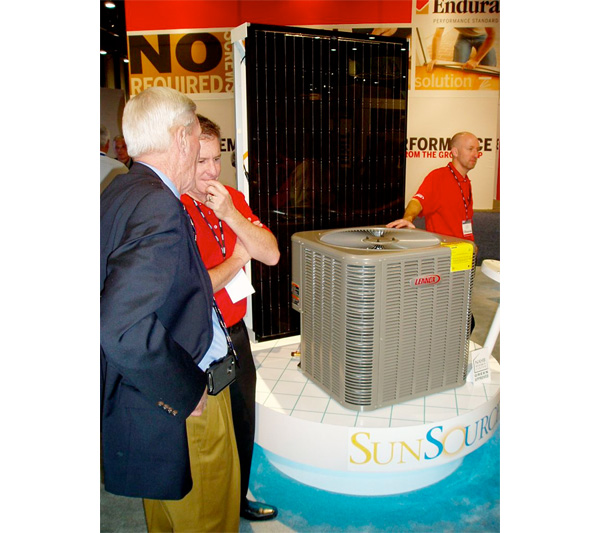 Credit: John Riha for HouseLogic
Sure, you'd like to go solar, but maybe you're not sure how to go about it. No worries —Lennox SunSource solar-ready air conditioners and heat pumps are ready when you are. When you decide to go solar and save on your utility bills, an HVAC pro simply plugs compatible solar panels into the unit — there's no need to fool around with your breaker box or add a power converter.
If you're not using your HVAC, the unit simply routes the juice from your solar panels into your home to power your appliances, lights, and other electrical goodies.
A high-efficiency unit runs $2,500 to $3,500 installed, depending on its capacity. Solar panels available through Lennox are $1,200-$1,500 per; a typical house uses at least eight.
You may be eligible for a federal tax credit of up to 9% of the cost of "solar-ready equipment." If you also invest in solar panels, then you may be able to claim a federal tax credit of up to 30% for the whole kit and kaboodle. Check with your tax pro.
Don't forget: Many states offer additional credits and rebates for solar installations.
Is Your Refrigerator in Hot Water?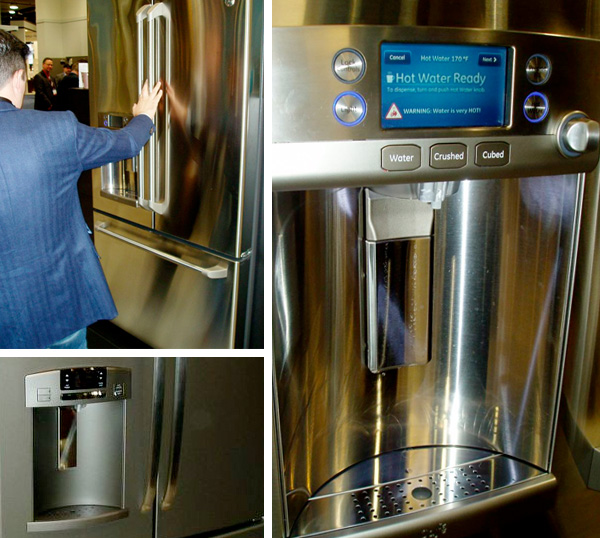 Credit: John Riha for HouseLogic
Your refrigerator wants to be so much more to you than cold. The GE Café series has a touch-control, on-demand hot water dispenser that serves up H2O at four pre-set heat settings. You can get warm water for baking or piping hot water for instant oatmeal. Yup, you can get chilled water and ice cubes from the door-mounted dispenser, too. The sleek fridge retails for $3,299.
Even More Keyless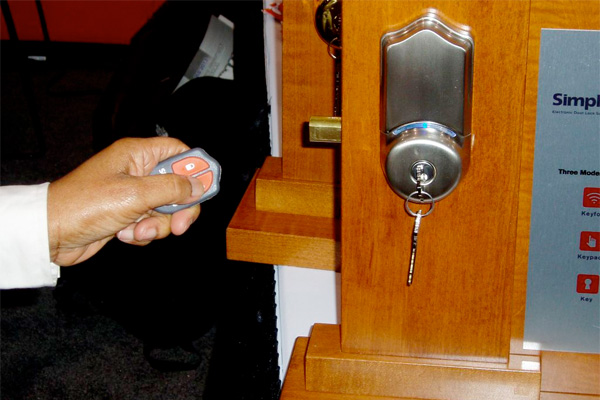 Credit: John Riha for HouseLogic
Biometric locks have been on the market for a while now, but Simplicikey takes high-techsecurity one step further: a handheld key fob locks and unlocks your door from up to 50 feet away.
Add the new Keycloud technology and you'll be able to lock your door using your smartphone, tablet, and laptop. Use the Keycloud app to check the status of any of your exterior doors, even at a second house or rental property. Cost: $199-$279 (the app is free).
Private Screening
Credit: John Riha for HouseLogic
On the low-tech end of things, I saw this at a booth and thought it was pretty clever. No, it's not an actual product, but part of a booth design. Take a large planter, fill it with polished rocks, and stick some bamboo stalks in it to create a tres modern fence. Use it as an indoor partition or outdoor privacy screen.