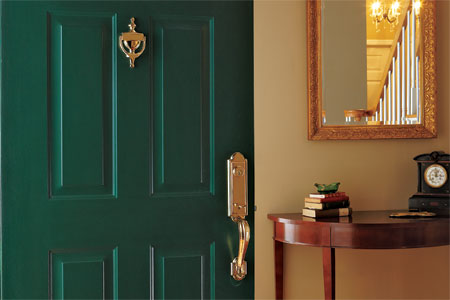 Photo:  Ryan Benyi
Making a memorable first impression is tough if your front door has ho-hum hardware. Even worse is a tarnished, pitted entry set with a peeling lacquer finish, like the one below.
To give the door more polish, we shopped around for a shiny brass replacement. But rather than get a set from a specialty hardware shop, where they can easily top $1,000, we chose a Baldwin one-piece handle and tubular lock set with a handsome escutcheon for $179 from the home center (The Home Depot). Hardware manufacturers' home-center lines, which range from $100 to $350, are also easier to retrofit because they're designed for DIYers.
Completing the door's makeover is a shapely new knocker for $41 and a gleaming kick plate for $66 (Cape Cod Brass), for a total project cost of $286.
Read more here at ThisOldHouse.com