By: JILL CONNORS, This Old House magazine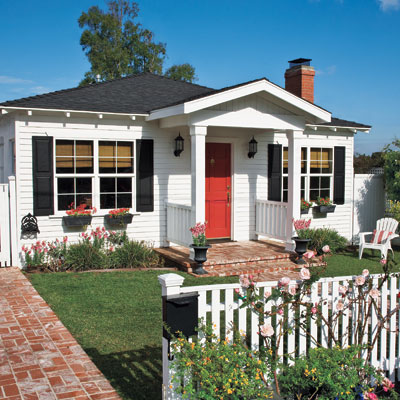 Photo: Mark Lohman
Beautiful Bungalow
It takes a certain eye to see a smart little cottage where others see a stucco teardown. But Steve and Shauna Mullins had exactly that vision when they first saw this 875-square-foot bungalow in Hermosa Beach, California.
"It was in a great location, less than a mile from the beach, and the basic layout was good—it hadn't been screwed up," Steve says. Still, the exterior of the 1941 house was showing its age, and its small rooms needed an update. Collaborating with architectural designer Rosa Velazquez on the front of the house, doing much of the work themselves, and enlisting a general contractor for the bigger projects, the couple lavished the tiny two-bedroom with a proud new facade and freshened the interior throughout.
For nearly all their redo needs, they jumped in the car and hit nearby home centers, scouring the aisles for well-priced shutters, fencing, cabinets, crown molding, paint, and more. Keep reading for the redo rules they followed—what worked for them can work for you, too.
Read the rest here.